Op 5 maart reden Zwaantje, Douwe en ik met RaVi en Boogie naar Gent in Belgie. Na mij keuring in Groningen zijn we direct vertrokken, we overnachtten in Gent (hadden nog een ontzettend leuke ontmoeting met de beroemde keeper Jean Marie Pfaff) en gingen met de ferry van Calais naar Dover, de volgende dag. De papieren van de hondjes waren gelukkig in orde. Dat hebben we wel eens anders meegemaakt met de Franse douane….met veel oponthoud, nu dus niet. Van Dover reden we door naar Birmingham waar we een ruim appartement hadden gehuurd. Later voegde zich Liz Scougal bij ons vanuit het verre Canada. We hebben het zó gezellig gehad! Shoppen in de BullRing shoppingmall, shoppen op de doordeweekse dagen van de Crufts, want in het weekend is het stik druk bij alle stands. Heerlijk wandelen en eten
en alles makkelijk te bereiken met een Uber. De Cairn Terriers werden op de zaterdag de 11e maart gekeurd. 87 waren er ingeschreven. Enorme parkeerplaatsen en dan met de gratis shuttle bus naar de hal. Voor de deur afgezet met tassen en hondjes, wat een luxe. Om 9 uur was RaVi al aan de beurt en wat deed hij het goed! Ondanks mijn verstuikte voet na een een avondwandeling naar de pub, kon ik goed lopen en RaVi werd 2e in zijn klas en kreeg een prachtige rozet. De hond waar hij van verloor werd later reserve Beste Reu dus daar had ik vrede mee. Boogie moest in de op één na laatste grote klas, een klas met heel veel kwaliteit, en werd óók 2e met een eveneens prachtige rozet! Deze resultaten overtroffen mijn verwachtingen. geplaatst worden was het doel en dat is dus gelukt. Zo hoog eindigen had ik niet kunnen dromen….. Er waren meerdere nakomelingen van RaVi en ook dochter Savane viel in de prijzen in de Yearling class. Liz vertrok de dag na Crufts naar haar moeder in Edinburgh en wij gingen terug naar Dover. Overnachtten daar en waren maandag weer thuis. Wat een geweldig leuke week is dit geweest, een reis om nooit te vergeten.
De keurmeester schrijft het volgende:
Crufts Championship Show Cairn Terrier, Birmingham England.
Judge Chris Roberts (Cannwood)
A very big thank you to Crufts for this very prestigious judging appointment. What an honour and the pinnacle of anyones judging career, and what an absolutely fabulous day in the Cairn ring.
Thank you to all of the exhibitors, both from home and from abroad, and thank you to my stewards, Kim and Ken, who kept me on the straight and narrow most of the time.
The quality of the majority of the Cairns was excellent.
I think that this was a very unique day for the Cairn Breed.
VETERAN DOG – Entries 5
1st Kintons, Ch. Woodthorpe I know the Code. 9yr old dark brindle. Love his masculine head and expression, Good reach of neck, strong level topline. Good depth of brisket, well muscled hind quarters. Moved and showed well.BV & RDCC
2nd Jansen-Kalshoven, NL/INT/CAN/AM GR CH Nordcairn's Rocket Man(IMP DEN) 7yr old wheaten with dark points, with the best of coats. A size smaller than 1st, but well proportioned. Good mouth, masculine head and expression. Good shoulder placement and depth in brisket. Strong topline and tailset. Well muscled quarters, which allowed him to go around the ring with ease.
3rd Lamb & Saltmarsh, Birselaw Dark Charmer for Macmoon ShCM VW. 9 yr old dark brindle, good head, well proportioned, level topline, good tailset, well muscled quarters, moved with drive.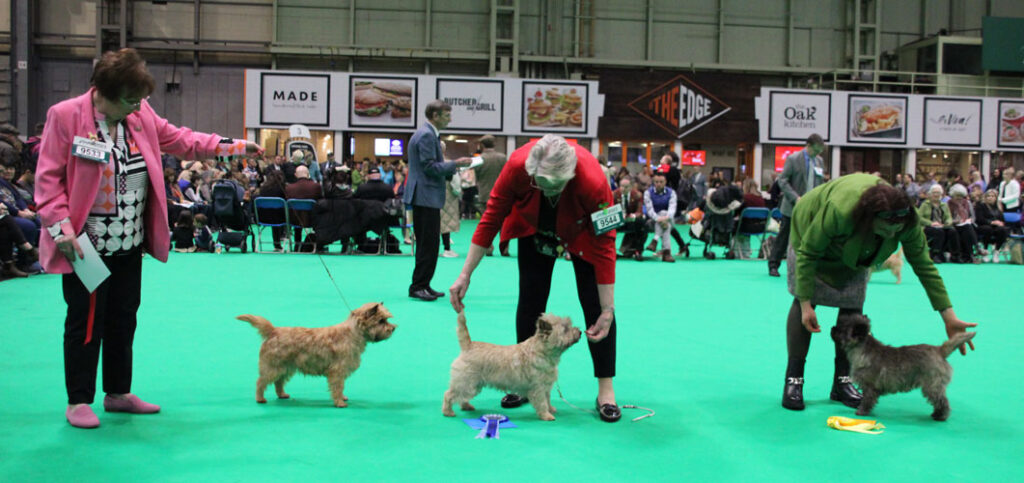 OPEN BITCH – ENTRIES 15 (Abs.1)
1st Firth's Ch. Cairngold Chiquitita. Red (a Chico daughter)!! Beautifully balanced, Gave her Best Puppy in breed at her first championship show just over 3 years ago, and she didn't disappoint today. Excellent feminine head and expression, still has that mischievous look in her eyes. Always alert and animated, moved effortlessly around the ring. BCC.
2nd Jansen-Kalshoven's NL CH/INT CH Cobby Body Kaffee Karamel NJK'18 JWW'18. Red Brindle, beautifully put down. Best of heads, teeth and muzzle. Nicely angulated producing good rear movement.
3rd Eilert's Multi Ch Camster Cairn's Let's Get Loud. Grey brindle, another with a good coat and well put down. Lovely well furnished head, nice eye and stop, neat ears. Moved and showed steadily.
En nog een geplaatste dochter van RaVi:
YEARLING BITCH – ENTRIES 6
3rd Yannick Garcia's Sound Africa-Savane Des Terres De Seres (jun Ch) Fr jun Ch, Mo jun Ch. Wheaten, muzzle needs to fill out and head furnishings were sparse. Good topline, well muscled quarters. Moved well.